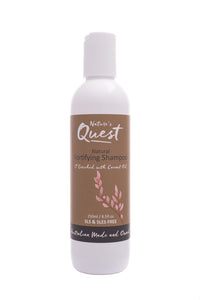 Indulge in what nature has to offer. Cleanse your hair with an ultra-rich formula that leaves your hair soft and smooth. 
Nature's Quest Fortifying shampoo contains the benefits of Coconut Oil. Coconut has many known benefits for the hair such as: Moisturising dry to normal hair for extra shine and softness. Helps to prevent hair breakage and split ends.
Proudly Australian Made and Owned
Ingredients:
Purified Water
Decyl Glucoside (plant derived)
Coco Betaine, (plant derived)
Xanthum Gum
Citric Acid
Sodium Hydroxymethlyglycinate
Vanilla Bean Extract
Panthenol
Coconut Oil
Avocado Oil
Australian Rosalina Oil.
Love using Natures Quest natural shampoos and conditioners especially the Lavenda Range but I got...
Please 🙏 get back the Lavenda Fragrant Shampoo and Conditioners it did wonders on my greys as well as natural colours of whatever O had left of anyway.