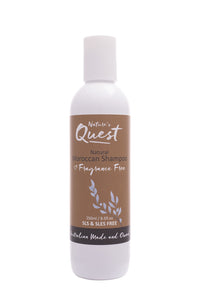 Nature's Quest Moroccan Shampoo is a sulphate free and fragrance-free shampoo that helps to penetrate the hair shaft and restore your hair. Our shampoo is hydrating and moisturising for soft ,strong shiny hair. Our unique, blend of botanical helps to penetrate the hair shaft. Discover  the new, shine, softness, and seductive, silky perfection.

Australian Made and Owned

Ingredients
Purified Water
Decyl Glucoside
Coco Betaine
Xanthan Gum
Coconut Oil
Sodium Hydroxymethyglycinate
Moroccan Oil (Argan Oil).
Moroccan Shampoo and Conditioner
I have been using these 2 products for several years now and my hair is in very good condition.
I am so pleased I have found these fragrance-free products, as I was sensitive to the ingredients in many other shampoo and conditioner products in the market.
in love!
my new favourite! leaves my hair feeling super clean and nourished. 10/10 recommend :)
Great product
I find this fragrance free shampoo one of the best if you're sensitive to chemicals or fragrance