Why you should use Fragrance Free Soap?
Nature's Quest Body Wash 
Nature's Quest body wash is an excellent foaming body cleanser that has been formulated without the addition of artificial or synthetic fragrances.  Nature's Quest's Body Wash is designed for cleansing the skin and it is the perfect alternative instead of using soap.  Body Wash is an ideal accessory for your daily bathing routine. It has been designed to refresh and remove dirt, sweat and excess oil that can build up throughout the day. But Nature's Quest fragrance free and soap free bodywash is more than just excellent skincare! Encased in recyclable packaging and infused with an invigorating ingredient, this body wash is the ultimate luxurious addition to your bathroom.
Fragrance Free Body Washes
Did you know that Fragrance free Body Washes are often considered hypoallergenic as the do not contain fragrances that could potentially cause allergic reactions or skin irritations in some people. People with skin sensitivities or those who may be prone to allergies often prefer our fragrance free body was to avoid potentially harmful or irritating ingredients.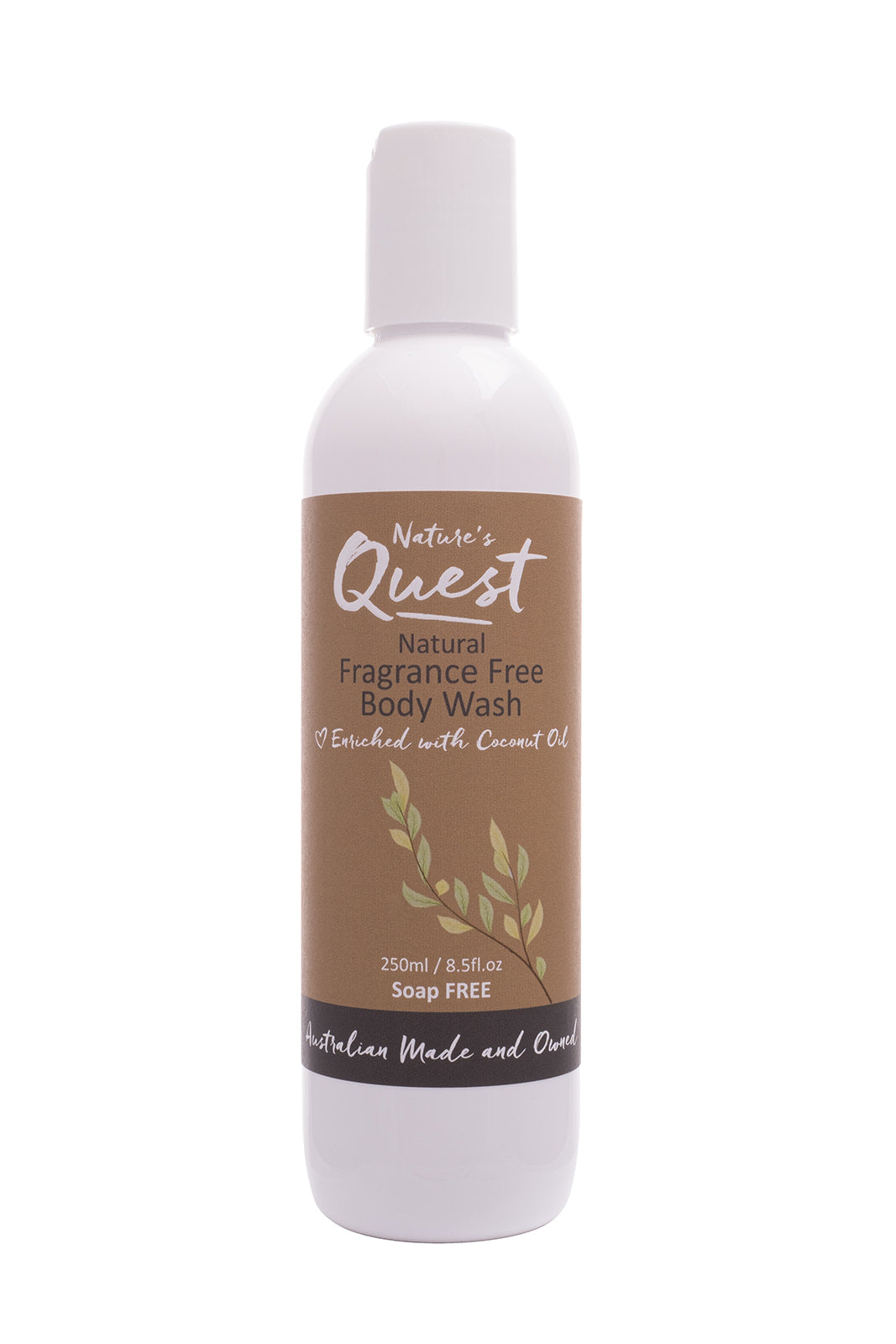 Our fragrance free body wash is soap free which gives it additional preferences for users  trying to avoid the use of soap.  Our fragrance free body wash, gorgeous mild formulation has been created to be gentle on your skin whilst still providing an exceptional cleansing ability leaving your skin refreshed. It is important for our body wash to be soap free as it cleanses your body without stripping away your bodies natural oils or causing dryness, again making it suitable for those with sensitive skin or for those who prefer to stay away from fragrances.
Male & Female Body Wash - F
ragrance Free
Our fragrance free body wash is suitable for both male and females and of all ages. As we do not have a fragrance it can be used with a combination of other ingredients after bathing such as body lotion and perfumes. These allowing individuals to enjoy the aroma of their after shower routine of applying deodorants, perfume and after shave with having conflicting aroma of a body wash.
Our soap free body wash has a mild active foaming ability and does not contain ingredients such Sodium, Lauryl Sulphate  or Sodium Laureth sulphate which can be known to strip the skin of its natural oils. Our body wash has been enriched with the benefits of carrier oils such as Sweet Almond Oil which is known to be excellent at purifying your and helps in unclogging your pores. It also helps your skin retain its moisture.
Rosehip Oil
Olive Oil contains antioxidants and essential fatty acids that are important in maintaining healthy skin and Rosehip Oil is the golden oil we all should have access to. The benefits of this oil in our body wash is numerous. Rosehip oil is known to even out skin tone and is rich in vitamins A, C, E and essential fatty acids. This beautiful selections of oils have been added to help to hydrate and nourish your skin leaving it feel soft and smooth and no doubt has many benefits that have not been listed.

When you are selecting a soap free body wash or fragrance free body wash ensure you read the ingredient list to ensure there is no hidden fragrances as these may cause you some skin irritations. The benefits for using a fragrance body wash seems endless.
How to use our fragrance free Bodywash
To use a body wash  simply pour a small amount onto a sponge or wash cloth, lather with water and rub over yourself in the shower or bath in a gentle massaging motion and rinse of thoroughly. Nature's Quest Soap Free Body Wash can be used safely on your face to remove dirt and makeup. Always take care when washing around your eyes to avoid irritation to your eyes. Fragrance free bodywash is a convenient option for an all over cleansing routine.
Our body wash has been naturally formulated with
100% Mild Formulation
100% Eco friendly
100% No synthetic smell and colour
100% No Sulphates
100 % No petro chemicals
100% Australian-made and owned
100% No Animal Testing
100% No Fragrances
100% Australian Owned and Made
100% Vegan Friendly
100% Pure Oils