Discover the hidden gems in Australian Natural Skincare
Natural Skincare & Haircare Products
Nature's Quest skincare and haircare offers a wide array of benefits that stems from use of natural ingredients right across our range. Nature's Quest skincare is a hidden gem and boasts many benefits derived from the natural carrier, essential oils, and plant extracts.
Nature's Quest natural haircare and skincare has grown significantly as people seek to find natural skincare that is affordable and Australian made and Owned. People are turning away from products that contain a high amount of synthetic ingredients and additives. Nature's Quest haircare and skincare is focused on the use of plant-based ingredients which offers a wide range of benefits for your skin and that is kind to your and the environment.
Organic Skincare Products
Nature's Quest is becoming the preferred choice for many individuals. Our beautifully selected range boasts a diverse range of unique plants derived and botanicals ingredients that sets our range apart from more conventional options.  The use of these chosen ingredients is focused from traditional wisdom, combined with modern science making Nature's Quest products appealing for those seeking a more holistic approach to skincare and haircare.  Nature's Quest has combined plants extract and oils which have been used for many generations and have been known for their healing and nourishing properties. This is how traditional knowledge and modern science blends perfectly together this resulting in products that are effective and addressing various skin concerns and is coupled with many benefits for the hair and skin.  Natural Carrier Oils and essential oils often contain high levels of antioxidants and these antioxidants have been known for centuries to benefit the skin.
Natural Body Lotion - Best Solution for Australia's Diverse Climate
In Australia we are known for our diverse climate from cold winters through to hot summers. Through these times it important to take care of your skin. Our Body Lotion is one of products that is useful all year round, providing good hydration for your skin to help combat dryness and to help promote a healthy supple skin complexion. Moisturising your body reliefs, the skin from a dry appearance giving back a nice even skin tone. Additionally, people also seek that sun kissed look because it makes them feel better about their appearance. We highly recommend trying our tanning lotion to achieve this sun kissed glow.  It helps to reduce the hours that you sit in the sun trying to get a tan and reduces the potential of skin damage from hours sitting in the sun to achieve your tan. Another hidden gem amongst our skincare range.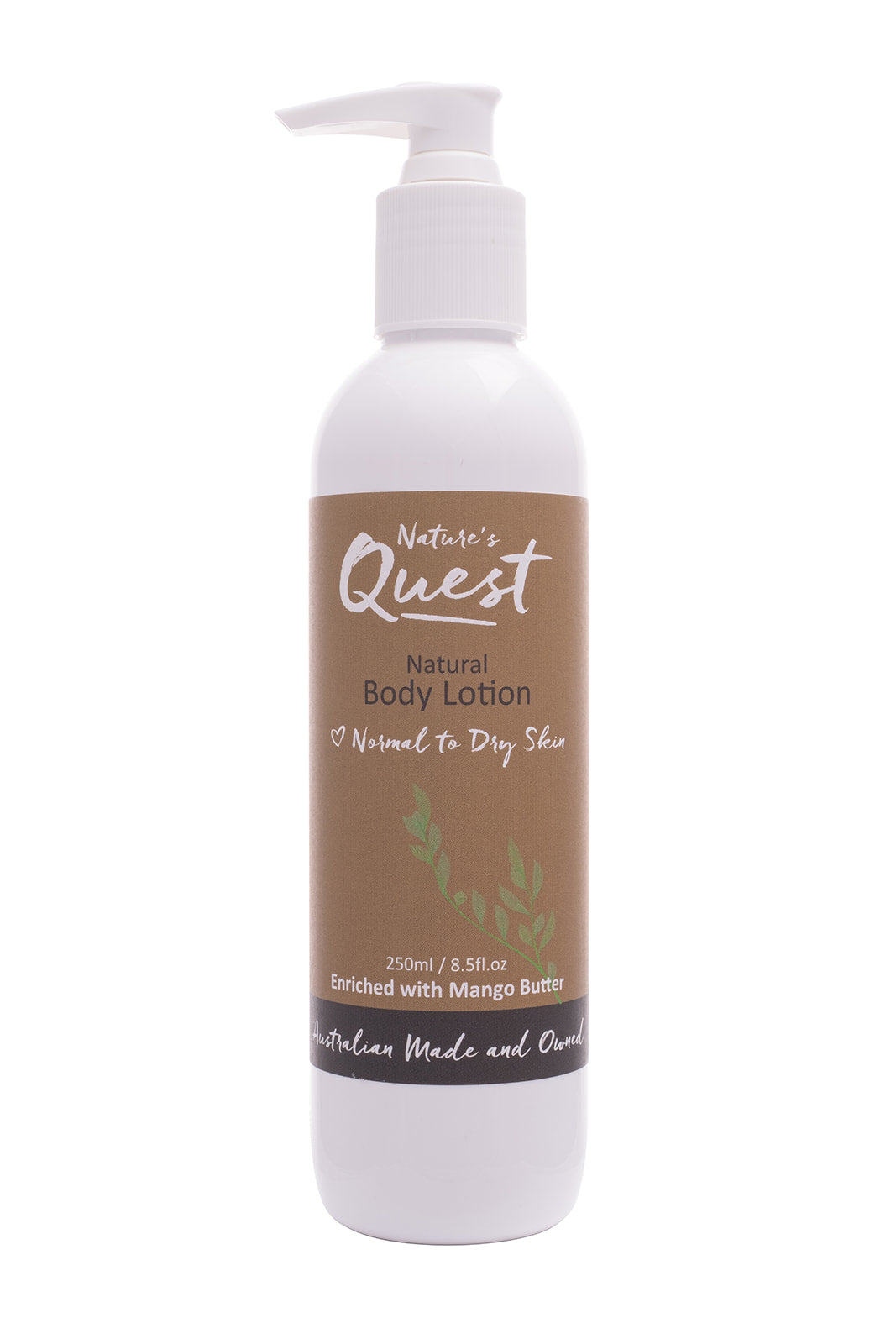 Natural Haircare Products
Nature's Quest offers a head to toe solution when choosing to go natural. Skincare is certainly a starting point, but we must overlook haircare. As we wash our hair, we must remember this often runs down over our body. Our haircare range does not contain sodium lauryl sulphate or silicones which means our haircare is kind to your and the environment. Another hidden gem in our range of products. Sulphates are a known irritants and whilst they foam well, we need to consider the adverse effects of such ingredients. This is why we choose mild foaming ingredients that cleanse your hair effectively whilst removing any need to be concerned what your hair been cleansed with. There are many natural alternatives to condition your hair without needing to use silicones in hair conditioners that may accumulate in your hair, weighing your hair down. We use natural ingredients that help to make your hair manageable, adding volume and leaving your hair silky clean.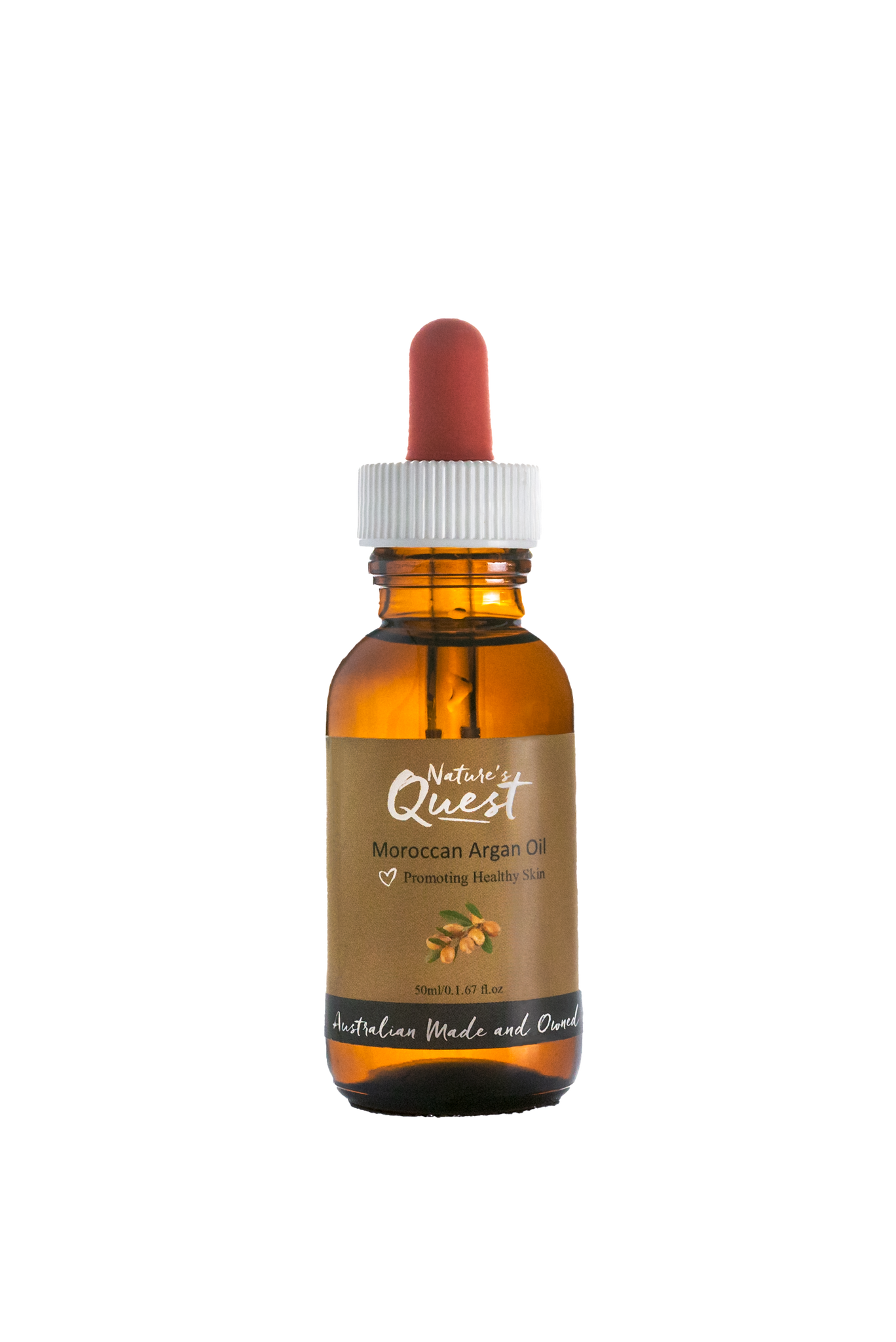 Nature's Quest is committed to sustainable and ethical practices. This includes the responsible sourcing of ingredients, recyclable packaging, and a focus on reducing our footprint. All ingredients we source are cruelty free, which means the ingredients we source are not tested on animals. A compelling reason to choose Nature's Quest skincare and haircare is to reduce the amount of synthetic ingredients your body maybe exposed to. At Nature's Quest we understand that you are choosing to look for a natural alternative. And we to believe in natural is best, reducing your overall exposure to synthetic ingredients. The benefit of going natural is the ingredients work in harmony with your skins natural processes encouraging a healthier lifestyle.
Nature's Quest haircare and skincare is affordable to family and is the perfect addition to your home.